Synthino XM
polyphonic MIDI synthesizer
and groovebox
About Synthino XM
The Synthino XM™ is powerful polyphonic synthesizer with unique features running on a powerful hardware platform. It has a compact, rugged tabletop design that is also beautiful. Most importantly, it is really fun to play whether you are a musician or you just want to make some noise.
Synthino XM was designed by Michael Krumpus of nootropic design, and Alex Dyba of GetLoFi. To launch Synthino XM they created a very successful Kickstarter campaign that was successfully funded and 100% sold out.

Synthino XM Features
5-note polyphony for superb playability
12 waveforms, 5 drum samples (kick, snare, hi-hat, tom, clap), and noise generator
12-bit audio at 25KHz output rate
4 MIDI channels, each with separate waveform and ADSR envelope settings
MIDI over 5-pin MIDI jack or USB
MIDI over USB works with DAW software on Mac, Windows, iOS, Android
low pass filter with cutoff frequency and resonance controls
2 independent low frequency oscillators (LFOs): pitch and filter
selectable waveform for LFOs
1V p-p audio output voltage with enough current to drive headphones
arpeggiator mode, up to 16 notes
4 arpeggiator patterns: up, down, up-down, random
4 built-in arpeggiator chords or use MIDI to specify up to 16 notes
arpeggiator pitch transposition control
tempo control with MIDI clock input
16-step live performance "groovebox" sequencer
save/load patches and sequences in EEPROM
pitch fine-tuning adjustment
programmable/upgradable over USB
Synthino XM Now Available
The Synthino XM synthesizer is now available in the store! Finally! We even have a new version with deluxe aluminum knobs, and some really cool Synthino XM t-shirts.
"Synthino XM is a surprisingly capable micro-synth for its size and cost. It is a great addition to any 'gee-whiz-hey-what-is-that-thing' collection of live instruments…"
Hardware
1/4 inch ( 6.35 mm ) output jack: Works with headphones, line output for recording, and direct connecting to standard guitar amplifier. We will include a 1/4 to 1/8 inch stereo adapter with each Synthino XM for headphone/earbud use. When running on 9 volt battery power, the unit turns off when the audio plug is removed.
Standard 5-pin MIDI input jack: This allows you to plug-in any standard MIDI keyboard, interface, sequencer, or drum machine to control the Synthino XM.
USB mini jack: Allows MIDI over USB functionality. This modern implementation enables sequencing and control from iOS, Android, PC,  and Mac devices. It can also be used to upgrade firmware using a simple upload utility. Synthino XM can also be powered from the USB port of cell phone charger, laptop power, or battery pack.
Laser-cut acrylic cover: Frosted acrylic gives the Synthino XM a gorgeous finish. We searched far and wide for acrylic with just the right look. Four orange LEDs emit a warm, diffused glow from beneath the acrylic.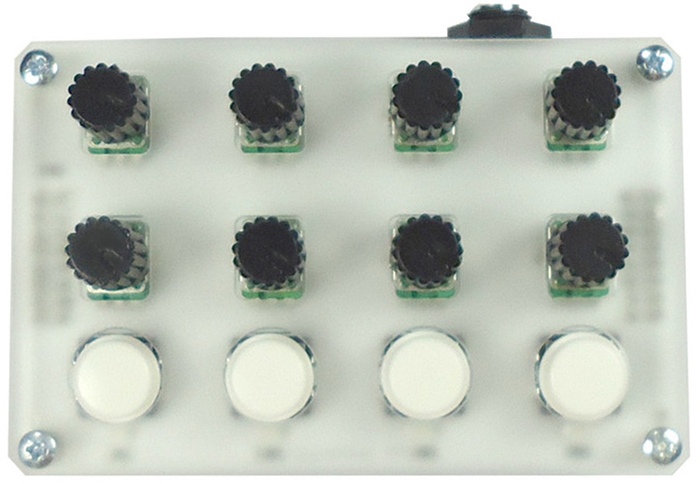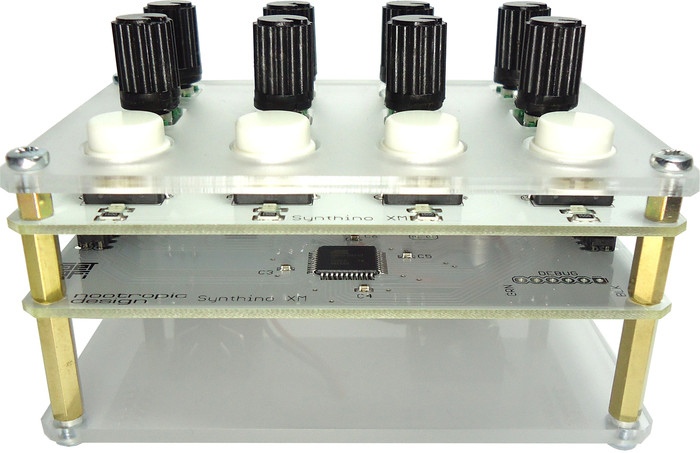 3 Fun Modes
The Synthino XM has 3 modes: synthesizer, arpeggiator, and groovebox. When Synthino XM is powered on, all the LEDs blink, prompting you to select a mode. For all the details, see the product documentation.
Synthesizer mode allows you to play the Synthino XM with a MIDI controller connected to the MIDI jack or from your favorite DAW (digital audio workstation) software with MIDI over USB. You can also play the synthesizer in standalone mode using note buttons. Explore different sounds by changing the waveform, controlling the note envelope parameters (ADSR – attack, decay, sustain, release), modulating the pitch and filter with independent LFOs for each, and adjusting the low pass filter.
Arpeggiator mode lets you play predefined arpeggios or set your own arpeggio notes with MIDI. There are 4 patterns: up, down, up-down, and random. And you can cycle through predefined 4-note chord arpeggios: major, minor, M7, and m7, or to select MIDI mode which creates an arpeggio with currently played MIDI notes (up to 16 notes!). Of course you can change the speed (BPM), transpose arpeggios up and down, and modify the envelope, waveform, and filter parameters. There's a ton of fun to be had, even when using the arpeggiator in standalone mode without any MIDI input.
Groovebox mode is the most sophisticated feature of the Synthino XM. It is a "live" 16-step sequencer which allows you to lay down 4 different tracks by playing a MIDI controller. When the sequencer is running, any note or drum sample you play will be recorded to the current track and repeated as the sequencer runs. Each track can have its own envelope settings. The individual notes on a single track can even have different waveforms, so you can create very rich, complex sequences. The Synthino XM groovebox mode is incredibly powerful and expressive. No musical talent is required to make great sounding sequences! You can even save them to memory for later playback.
There's so much to say about all the features and controls, we wrote a very comprehensive product manual with everything you need.
Now Available
The Synthino XM synthesizer is now available in the store. We even have a new version with deluxe aluminum knobs, and some really cool Synthino XM t-shirts.